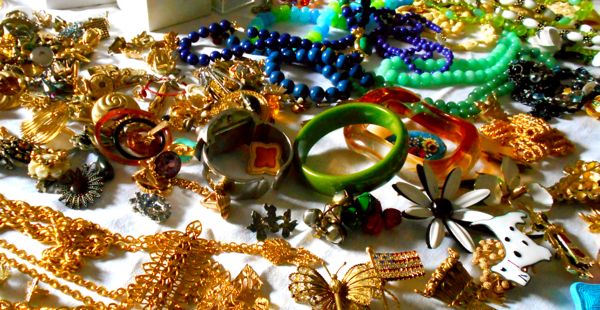 Don't buy old gemstone jewelry if you can't see the back of the stones. Some have reflective foil behind a pale stone to enhance the color. Some are doublets – clear stone glued to a colored stone. If you are buying something valuable get a certificate of authenticity and a guarantee. Know your jeweler.
Clues to Authenticity:
Most U.S. manufactured gold jewelry made before 1900 did not have a karat or manufacturer's stamp. The stamp and trademark were not required until after 1962.
Gold-filled, gold overlay, and gold electroplating processes were invented in the 1850's.
Cut steel was used as a substitute for diamonds from the mid-18th to the mid -19th century. After that, stamped steel was used.
Platinum was introduced in the late 1800's and was not allowed for civilian use during the World Wars.
The American brilliant cut was developed in 1919.
The European brilliant cut for gemstones was used from 1940 to 1970.
The emerald cut was developed in the 19th century, but seldom used until the 20th century.