A Christmas Sale!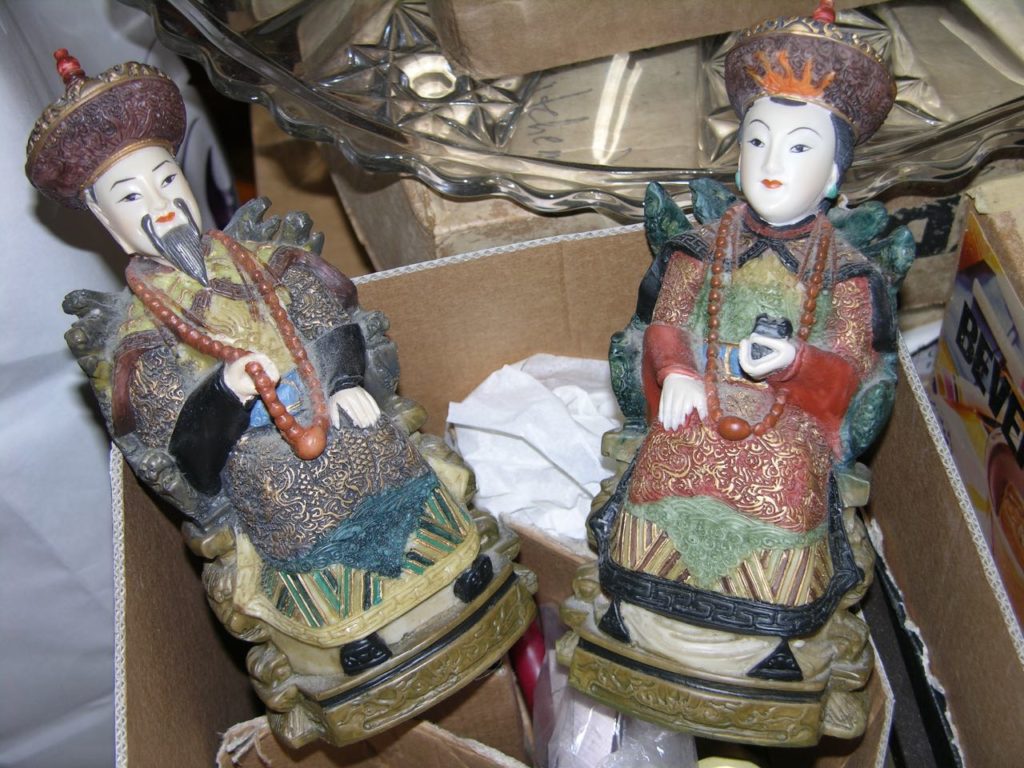 NEW DATES, SAME TIME!
Saturday, December 16
9 A.M. to 2 P.M.
Sunday, December 17
12 Noon to 3 P.M.
Two Day Sale
Sign – up sheet for order of admittance to sale available at 8:00 A.M. on Saturday
Sign – up sheet for order of admittance to sale available at 11:30 A.M on Sunday
Merry Christmas and Happy Holidays to you all. This is our last sale for this year and we all look forward to seeing you there and in the new year.
This large, stately Eastern Shore family home is filled with Hidden Treasures. There are two floors and a basement. Each room is full and will be a true shopping experience.
Entering the enclosed porch you will see the three metal gliders, one full size, two 'love seats' and and a rocker. The metal frames will need a new coat of paint but all have bright colored cushions and will be a great addition to your summer furniture collection. Two wooden barrels and a cast iron pot are there also.
Covering the living room and dining room floors are beautiful dark red oriental-style carpet in excellent condition. The satin finished upright Baldwin piano has been crafted from fine looking hardwood and is just the thing for the up-and-coming pianist in your life. Several pieces of Victorian furniture adorn the living room including a pie table, a curvaceous sofa and various, assorted table lamps. All are in beautiful condition and ready to go home and start a new life.
If a large dining table is in your future, we have just the one you are looking for. This solid wood (probably walnut) is drop leaf and will seat at least 10 people. The round table with two leaves and matching server, buffet and glass china cabinet are just right for the smallest of dining rooms or even a kitchen. There are two sets of fine china that serve twelve with coordinating crystal. Lovely vintage linens will set the perfect table for all your holiday needs.
Of course the kitchen has many surprises still hidden in the cupboards that we have not uncovered at the time of this writing.
The upstairs rooms hold many pieces of really nice bedroom furniture including a full sized canopy bed with matching dressers and and a lingerie cabinet. Smaller oriental carpets adorn the floors.
Another nice surprise are the lovely silk scarves, drawers of costume jewelry, ladies hats (some vintage) and handbags.
A great deal of boxes have been brought down from the attic and promise to hold many Hidden Treasures. From some of the boxes we have seen several Christmas items (some vintage), 1950's – 60's dolls (including a vintage Barbie and all her clothes), a few Asian figurines and more to be discovered.
As you make your way to basement (remember the stairs are steep so watch your step) you will find an interesting assortment of furniture, books, more Christmas items, baskets, art work and old trunks. There are two rooms in the basement and both have many Hidden Treasures.
The home is located on a private road that is very narrow so parking will be interesting. Please do your best. The immediate driveway will only be for pickup of large items.
The sale is on Severn Road in Franktown just two miles from the old Nassawadox hospital. Look for pink & black 'Estate Sale' signs. Click here for map & directions.
Sign-up sheet for order of admittance available at 8:00 am and the sale starts promptly at 9:00 am. Don't miss this one…
Gallery
Map & Directions